Special anatomical, physiological or behavioral adaptations: Red Kangaroos can hoop as fast as 40 mph (64 km). They use this as their first line of defense. Kangaroos have a tendon in the leg which acts like a rubber band, conserving energy as the animal moves lands. Red Kangaroos actually expand less energy in locomotion as they move faster, up to very fast speeds.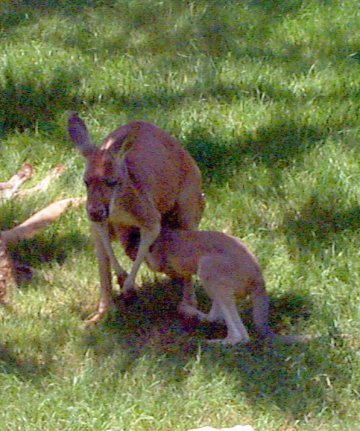 Females become sexually mature at 15-20 months old, and males become mature at about 2 years old. The embryo from the female Kangaroo is virtually pea-size. Several days before the female gives birth, she begins to clean out her pouch until it is free of debris and dirt. The Joey (baby/young kangaroo) will resume to stay in the pouch for 235 days. Inside the pouch there is an adequate amount of nipples for the Joey. Each nipple is designed to transfer the Joey through the different stages of the growing process. For example, the first nipple will take care of the Joey for the first couple of weeks and the second nipple will take care of the Joey for the next couple of weeks etc. The Joey will play a game like peekaboo until he/she gains enough courage to enter the new world. To get out of the pouch to wander, the Joey is aided by a group of muscles that the female has in the opening o the pouch.
Red Kangaroos are most active at night and in the few hours after sunrise and sunset. They forage less and rest more during the day in winter than in the spring or summer.