Zoo mourns loss of white tiger
(copy of a press release from the Fort Worth Zoo)


FORT WORTH— Neela, the Fort Worth Zoo's 18-year-old white tiger, was euthanized on Friday, August 8, after showing signs of deteriorating health as she aged and approached the end of her natural lifespan.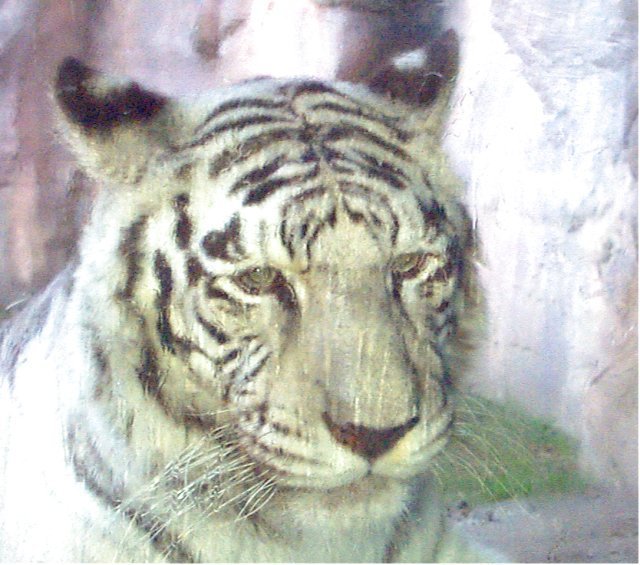 Neela
Because of Neela's advancing age—most tigers live for 15 to 17 years in captivity and only 10 years in the wild—keepers and veterinary staff began medical evaluations and therapeutics nearly two years ago. Noting that Neela had shown a loss in muscle mass and compromised kidney function, Zoo vets began a series of treatments, ensuring that her senior years were as comfortable as possible. However, in the past several weeks, Neela's health was worsening and her quality of life was quickly diminishing.
"Neela was definitely a senior citizen in the zoo world," said Robert Wiese, director of animal collections at the Fort Worth Zoo. "The entire Zoo staff is saddened by her loss, but we are comforted by the fact that Neela lived a long, full life here at the Zoo."
When the tiger began having difficulty moving and showed little interest in food over several weeks, the Zoo team made the decision to allow the cat to pass away with as little suffering as possible.
Loved by visitors and Zoo staff alike, Neela was closely monitored by Zoo keepers, whose daily schedules revolve around their commitment to maintaining the cat's quality of life.
"Neela was one of the Zoo's most recognized animals and had become an ambassador for her species," Wiese continued. "She will be greatly missed by Zoo staff, members and guests."

Neela, whose name means "Blue Eyes," was born on the 4th of July in 1985. In honor of her birth on Independence Day, Neela and her two siblings were named red (Laal), white (Saafaid), and blue (Neela). Neela was born at the Cincinnati Zoo, moved to the Fort Worth Zoo in the late 1980s and was on exhibit in Asian Falls. Both of her littermates passed away several years ago.
Another photo of Neela taken in 1994 by Dana Hill